Conference
A culturally marked meeting place
V Hotel is one of Helsingborg's oldest meeting places, where meetings and conferences have been held since the beginning of the 20th century.
Our conference room and wine cellar are perfect for smaller meetings, the management group or the board meeting.
Contact us at info@vhotel.se for a tailored experience regarding accommodation, meals and conferences.
For larger events or conference bookings, we also offer unique and memorable meeting rooms at our sister hotel only 250m away.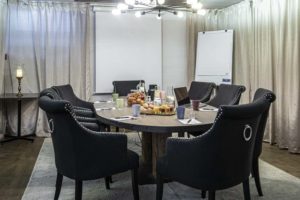 Our conference room
The Moon i källarplan/vinkällaren är ett mötesrum, styrelse rum, Chambre Séparée för 8-10 personer.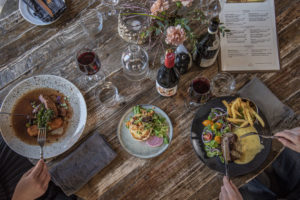 Dine
What better way to take a break from a day of intense meetings than to sit down at a wonderfully set lunch table? We think it is important that you get a break from your conference and an opportunity to stretch your legs. Enjoy lunch at our restaurant, Bistro V. We also collaborate with other restaurants nearby. Our sister hotel restaurant Trattoria Venti
In the morning we serve you a good and healthy breakfast with Zoega's coffee, tea, mixed buns with a variety of cold cuts, juices, fruits and vegetables. In the afternoon you get a wonderful cup of Zoega's coffee, tea and a tasty pastry cake. If you want a fruit bowl in the room, we will of course arrange it!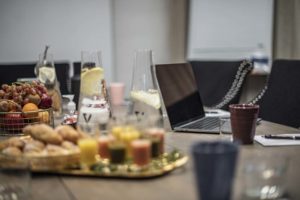 Technique
All our conference rooms are equipped with a computer projector, wireless internet, whiteboard and flipchart. Should you need any additional technology for your upcoming conference, we will rent it from one of our talented partners here in Helsingborg.
The moon at V Hotel

Conference and meeting room at V Hotel for board seating or small groups.
At the hotel, downstairs, we have a boardroom with room for up to 2-8 people. Here you can confer and end the day with a dinner for yourself.